Vintage Powder Compact Repair London and Restoration of Compacts.
Our London Jewellery repairs department specialise in repairing Fine Antique and Vintage Powder Compacts.

Re-lacquering powder Compacts.
Re-enamelling Compacts.
Re-silvering vintage powder compacts.
Silver plating compacts
Restoring, repairing and replacing compact mirrors.
Repairing compact catches, renewing Catches.
Renewing compact hinges catches and hinges.
Replacement of mirrors, round, square or rectangular mirrors.
Replacing Larger and unusually shaped compact mirrors.
Cleaning and re-lacquering of compact cases.

Powder Compacts such as
Cartier, Coty, Boucheron, Faberge
Gwenda, Houbigant of France,
Kigu, Le Rage - Le Rage
Mascot, Stratton, Tiffany
Vogue Vanities,
Yardley, Zenette
Fine Examples on the left are:
18ct Gold, Abalone Pearl, Diamond, Enamel and Onyx Compact, Boucheron, Paris, Circa 1925.
Centered by a plaque comprised of carved abalone, mother-of-pearl and hardstone depicting a fortress amidst mountainous terrain, framed by numerous rose-cut diamonds, fitted with an onyx thumbpiece and outlined in black and white enamel with green enamel applied at the corners, the interior fitted with two compartments, a liptstick holder and a mirror.
18ct Gold and Enamel compact by Boucheron Paris.
A Vintage powder Comapct Of textured gold design, embellished to the front with blue and green enamel floral motifs, opening to reveal a fitted mirror and a powder compartment, of 18 carat yellow gold, signed Boucheron.

Gold, seed pearl and diamond compact, Van Cleef & Arpels, 1949
Formely belong to Marlene Dietrich
The central circular plaque pierced and millegrain-set with seed pearls, circular-, single-cut and rose diamonds, signed Van Cleef & Arpels and numbered, pouch
18 Carat Gold and Ruby Compact by Van Cleef & Arpels
Powder Compact Repairs London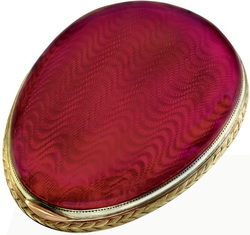 Vintage Powder Compacts Repair and Restoration, New Mirrors, Hinges, Catches, Re-Lacquering, Re-Silvering, Re-enamelling.
We are often asked
:
"Can you replate my vintage powder compact?"
We answer
: Yes we can replate powder compacts!
Click here
for our London Jewellery repairs department, Repair of Powder Compacts and restoration of Vintage and Antique Powder Compacts
..
Our London jewellery workshop Hatton Garden
For Vintage Powder Compact repair.
Opening times:
We are open Monday to Friday.


We are closed

Weekends and Bank Holidays.


Telephone: 020 705 1536
+ 44 (0)20 7405 1536.
Some Images by Courtesy of Sothebys